residential roof repair
Your roof is one of the most important structures on your home.  As long as your roof is in good condition it shields you, your family, and your valuables from bad weather and the elements of nature.   If your roof is old or has sustained a certain amount of damage, it may begin to leak or fall apart.  At this point, you may need a new roof or you may need residential roof repair to fix your existing roof's structure.  Hyer Quality Roofing & Construction has over 20 years of experience repairing and installing residential roofs throughout South Florida.  We only use the best quality materials when installing your roof and adhere to strict roofing standards, while still offering our clients the best prices. Our residential roof repair services include; cement and clay tile re-roof and repairs, asphalt shingle re-roof and repairs, metal re-roof and repairs, flat re-roof and repairs, and more.  Whether you need your residential roof repaired or a complete re-roof, give us a call to set up an appointment for a free estimate today!
Cement and Clay Tile Re-roof and Repairs
Re-roofing with clay tile shingles requires installing what is known as an "underlayment" , flashing and wood strips before actually applying the tiles.
Asphalt Shingle Re-roof and Repairs
There are many different types of shingles on the market today. A shingle roof consist of two main components, the underlayment layer and the shingle layer.
The underlayment layer will consist upon 1 layer of #30 felt on slopes of 4/12 or higher. On slopes 3/12 and lower 2 layers of felt are installed as per the new 2014 building code. Additional layers can be installed on slopes greater than 3/12 at an additional cost. The top layer of the roof will be the shingle layer. The two most common types of shingles are 3-tab and Dimensional (3D). Either shingle will provide a long lasting roof for your residential home. While both shingles come in similar colors there are several differences in the two.
A 3-tab style shingle gives the roof a flatter more linear look and this type of shingle is typically rated to 60-70mph from the manufacturer. The most common 3 tab shingles used are GAF Royal Sovereign and Owens Corning Supreme. Other manufacturers such as Tamko, IKO, and CertainTeed also make 3-tab style shingles.
Dimensional shingles can go by a few different names such as 3D, Architectural, and Laminated.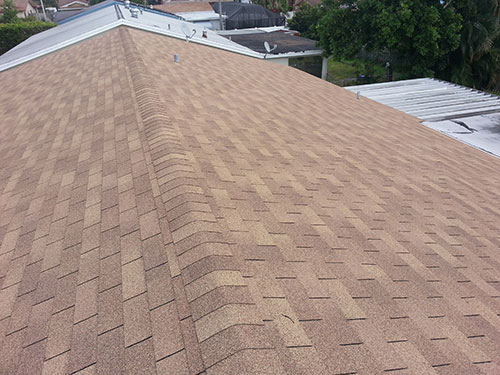 Metal Re-roof and Repairs
We offer all types of metal roof installation. There are many styles such as Standing Seam, Snap Lock, Mechanical Seam, 5v and many others. Let us help you when figuring out which is best for your project
Flat Re-roof and Repairs
At Hyer Quality Roofing we specialize in Modified Bitumen roof installations. We offer systems using GAF, CertainTeed, and Firestone products. Adding Tapered Insulation at ponding water areas will provide positive drainage and allow your roof to achieve its maximum longevity.